TUYỂN SINH CÁC LỚP MẦM NON từ 12 tháng - 6 tuổi.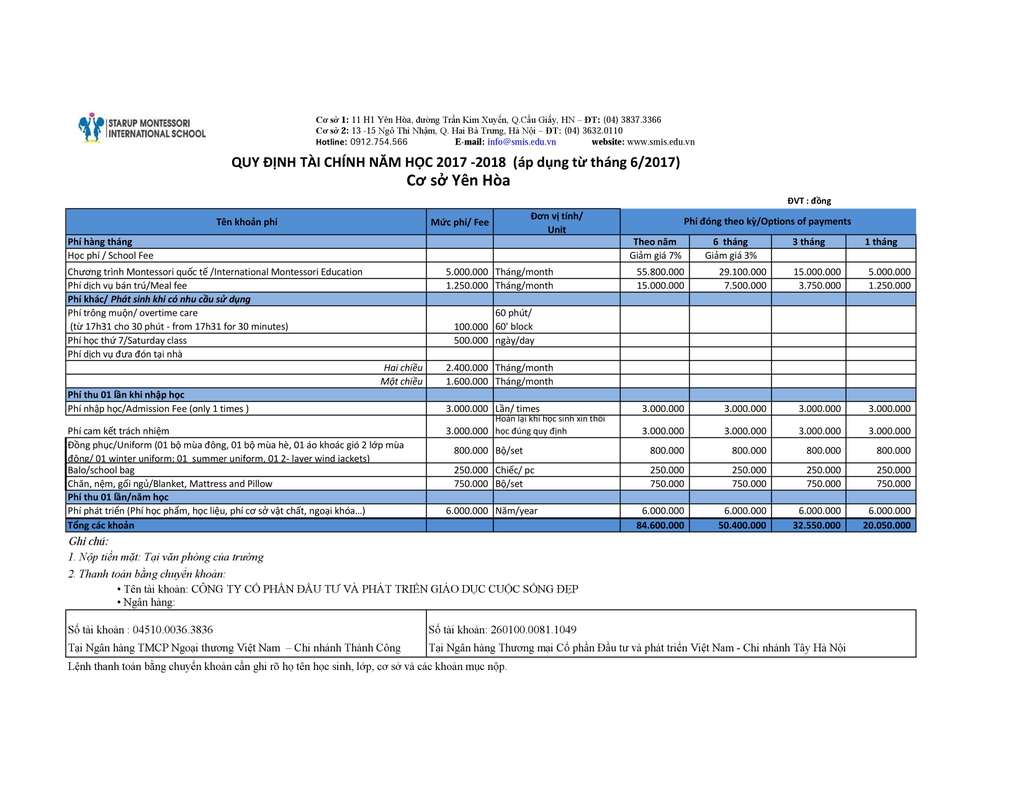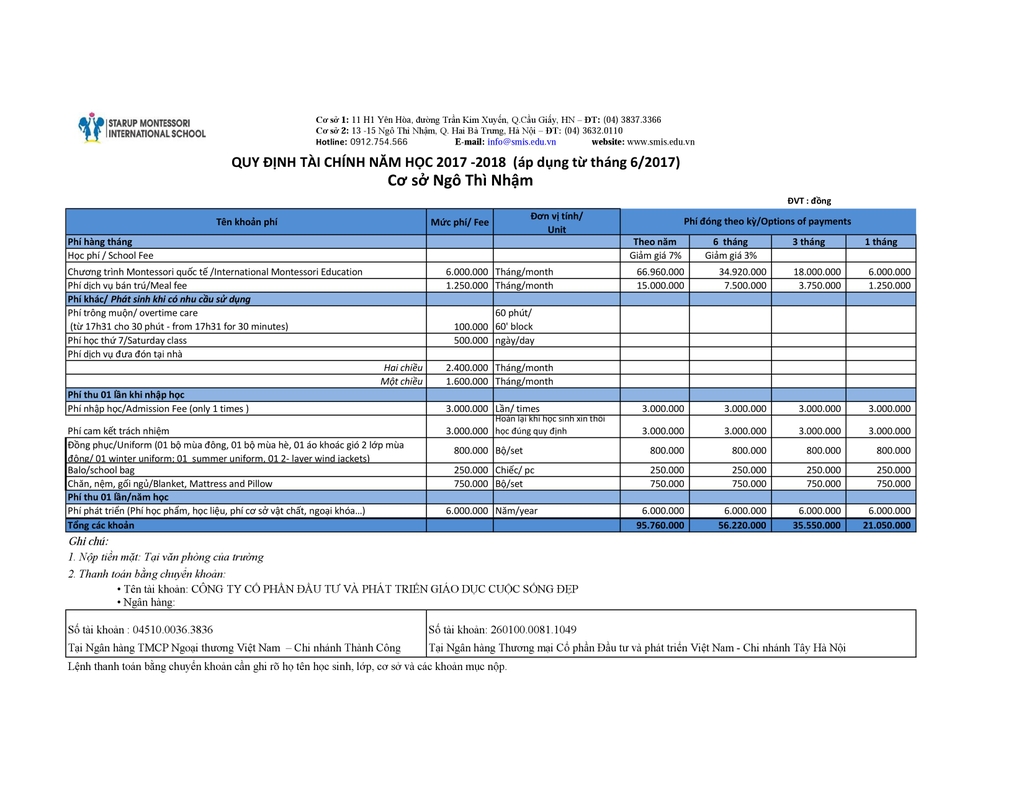 A. Fee and time – limit to pay
I. Entering school fee: pay only one time when register in StarUp Montessori International School (StarUp) and this fee will not be returned.
II. Compulsory fee
Reserve fee: pay right after registering in StarUp. Regulations of these fees:
a/ is compulsory for all students of StarUp
b/ is allowed to transfer between kids in the same family
c/can be minus when paying for the first fee in school year or can keep for reserving for next year
d/ cannot be refund except for students that don't meet the standard to join StarUp
2. Other fees
III. Time – limit to pay
1. Parents can select one of the selection of paying fee in each period and sign up for StarUp before the first time – limit of paying fee. The time – limit for paying fee is from the first day to the tenth day of the first month according to parent's selection
2. If tuition fee and other fee are paid after the time – limit, parents will have to pay penalty fee, it's 1%/month for the days and the month that have been paid late. If parents pay late more than 2 months, the student will be suspended.
3. With students who enter school during the semester, the time – limit will be 5 working days before the first day the students join StarUp, the details of fee will be notice for each students at the same time that we deliver letter of admission:
Money for meals, materials, uniform
Tuition fee, development fee and bus fee
B. Benefits
I. Family benefits
| | | |
| --- | --- | --- |
| Beneficaries | Preferential education fees | Preferential bus fees |
| 02 children in 01 family go to StarUp | Discount 5% for each child from the moment 02 children join in | Discount 10% for each child from the moment 02 children join in. |
| 03 children in 01 family go to StarUp | Discount 10% for each child from the moment 03 children join in | Discount 10% for each child from the moment 02 children join in |
II. Long study period benefits: Applied for Facility Fees for students continuously study in Starup:
| | |
| --- | --- |
| Years joined in Starup | Preferential levels |
| 1 | 0% |
| 2 | 10% |
| 3 | 20% |
| 4 | Free |
III. Group of parents benefits: Applied for group of parents that was recommended to sign up for Starup by another parents:
| | | |
| --- | --- | --- |
| Group of Parents | Preferential tuition fees | Preferential time |
| From 3-4 parents | 3% | First year |
| 5 parents | 5% | All the continuously studying years |
| From 6 parents | 7% | All the continuously studying years |
STARUP MONTESSORI INTERNATIONAL SCHOOL
Campus 1: Số 11 lô H1 Khu đô thị Yên Hoà - phố Trần Kim Xuyến - Quận Cầu Giấy - Hà Nội
Tel: (04) 3837.3366
Campus 2: 13 Ngô Thì Nhậm – Quận Hai Bà Trưng – Hà Nội
Tel: (04) 3632.0110
Hotline: 0912.754.566